The EconoRoute™ Prescription Delivery Courier Network has rolled out in the Greater Toronto Area and we've got some exciting news about the platform. 
The iApotheca team has been busy taking suggestions from customers and using them to make EconoRoute™ better than ever.
Savio Resende, our Senior Software Engineer has expressed gratitude on the part of the iApotheca team for all the customer feedback.

"We are working hard to improve the experience on the platform," said Savio, "I'm especially thankful for our initial customers and their essential feedback."
As far as the team goes, he also commented on their extraordinary hard work and dedication. 
"Our development team has been working hard to ensure that our beta users receive the best experience."
Here are the newest updates:
We've added tax calculations for run submissions to the courier. 

When it is past the courier's run acceptance time for the day, the following messages will be displayed: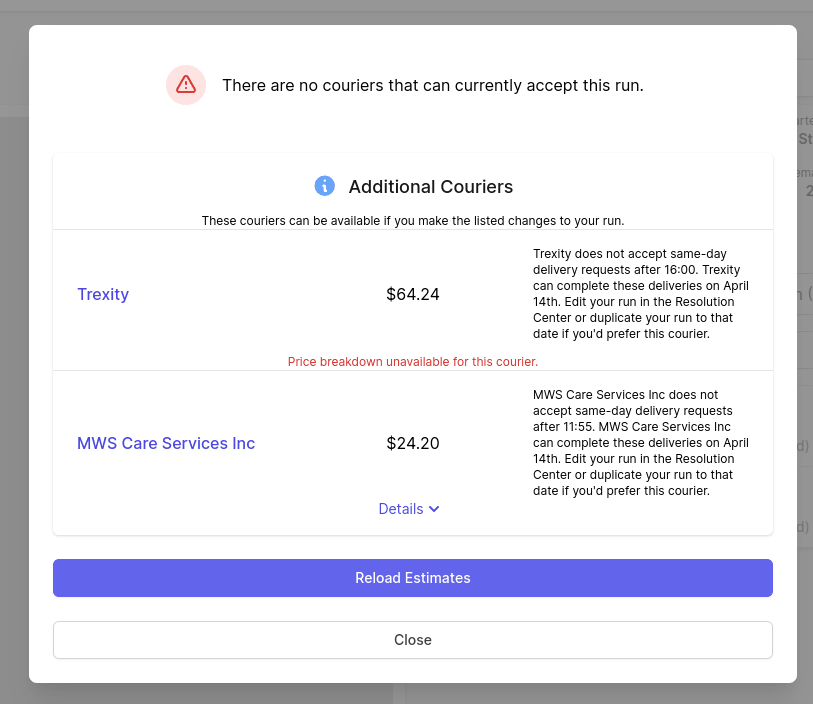 If you accidentally select yesterday's date or any past dates, this message will appear. But don't worry, You can still schedule your run for the next day that the courier is available.
With this new update, the date of your run will now be visible at all times right above the run name. This makes it easy to customize the run name to include your pharmacy's name without worrying about the date of the run being cut off or not being visible.

The latest updates on EconoRoute™ Prescription Delivery Network aim to make your experience better than before. 
But these updates are not the only reason EconoRoute™ Prescription Delivery Network is the perfect solution to your delivery needs.  EconoRoute™ is also built with all the tools you need to stay compliant with regulations, including: 
Our proof of delivery feature, which makes it easy for drivers to take a photo of the prescription upon delivery. 

The EconoRoute™ delivery signature feature which allows you to track who receives the package, while ensuring that the prescription has been delivered safely.

The easy-to-use delivery log which provides an accurate audit trail.
With the EconoRoute™ Prescription Delivery Network, delivery has never been easier! And with your help, we can continue to deliver amazing updates to the platform. 
Got a suggestion that will make the EconoRoute™ experience even better? Let us know!